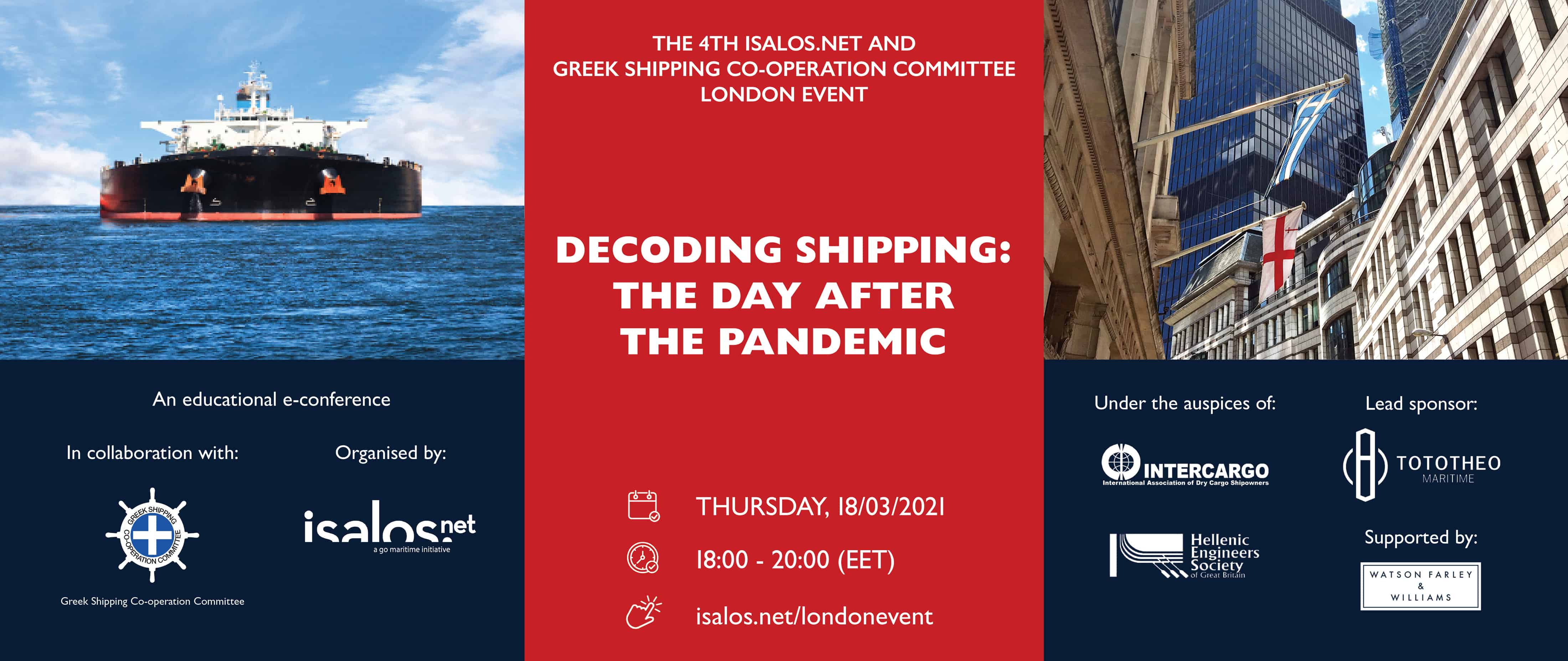 The 4th Isalos.net Maritime e-Conference in London
Decoding Shipping: The Day after the Pandemic
&nbsp
Date: Thursday, March 18, 2021
Duration of the conference:
- 18:00 – 20:00 (Athens, GR Time)
- 16:00 – 18:00 (London, UK Time)
Registration: Eventbrite.com
The 4th Annual Isalos.net Maritime e-Conference, in collaboration with the Greek Shipping Co-operation Committee, will take place on Thursday, March 18, 2021, from 18:00- 20:00 EET (Athens, GR time) and 16:00- 18:00 GMT (London, UK time).
The annual event is under the auspices of INTERCARGO and the Hellenic Engineers Society of Great Britain and aims to inform the maritime community in the UK and Greece about the recent developments, challenges and opportunities for the shipping industry in the post COVID-19 era.
The Lead Sponsor of the event is Tototheo Maritime, and is supported by Watson Farley & Williams.
The event is organised with the official participation of City, University of London, The Costas Grammenos Centre for Shipping Trade and Finance, the Henley Business School, University of Reading, Newcastle University and ALBA Graduate Business School (ACG).
Agenda
&nbsp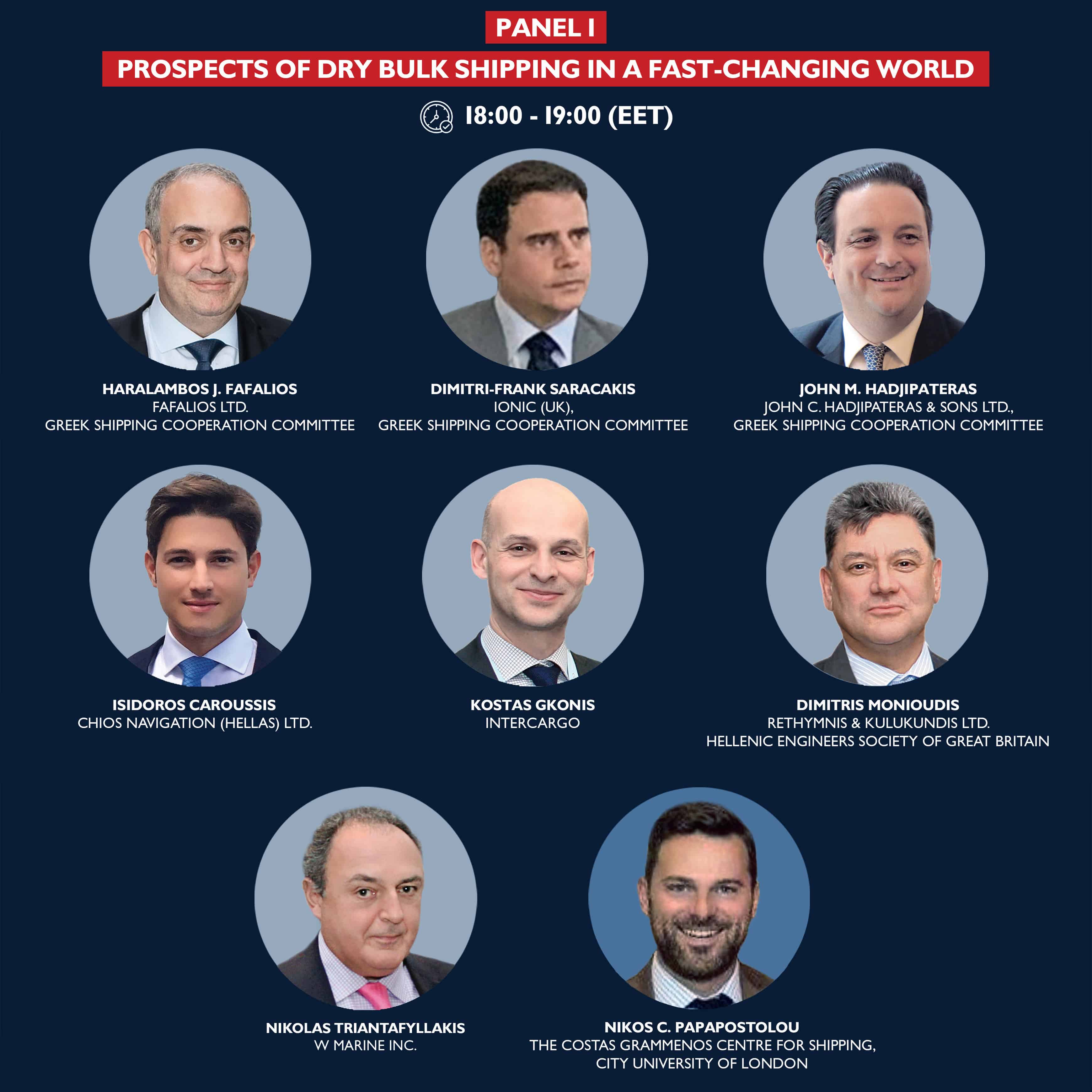 18:00 - 19:00 (EET) - Prospects of Dry Bulk Shipping in a Fast- Changing world

- Mr Haralambos J. Fafalios, Chairman- Greek Shipping Co-Operation Committee, Fafalios Ltd.
- Mr Dimitri-Frank Saracakis, IONIC (UK)
- Mr John M. Hadjipateras, John C. Hadjipateras & Sons Ltd.
- Mr Isidoros Caroussis, Chios Navigation (Hellas) Ltd.
- Dr Kostas Gkonis, Director / Secretary General, INTERCARGO
- Mr Dimitris Monioudis, President of the Hellenic Engineers Society of Great Britain & General Manager of Rethymnis & Kulukundis Ltd.
- Mr Nikolas Triantafyllakis, Managing Director, W Marine Inc.
- Moderator: Dr Nikos C. Papapostolou, Associate Director, The Costas Grammenos Centre for Shipping, Trade and Finance & Senior Lecturer in Shipping Finance, Cass Business School, City, University of London
&nbsp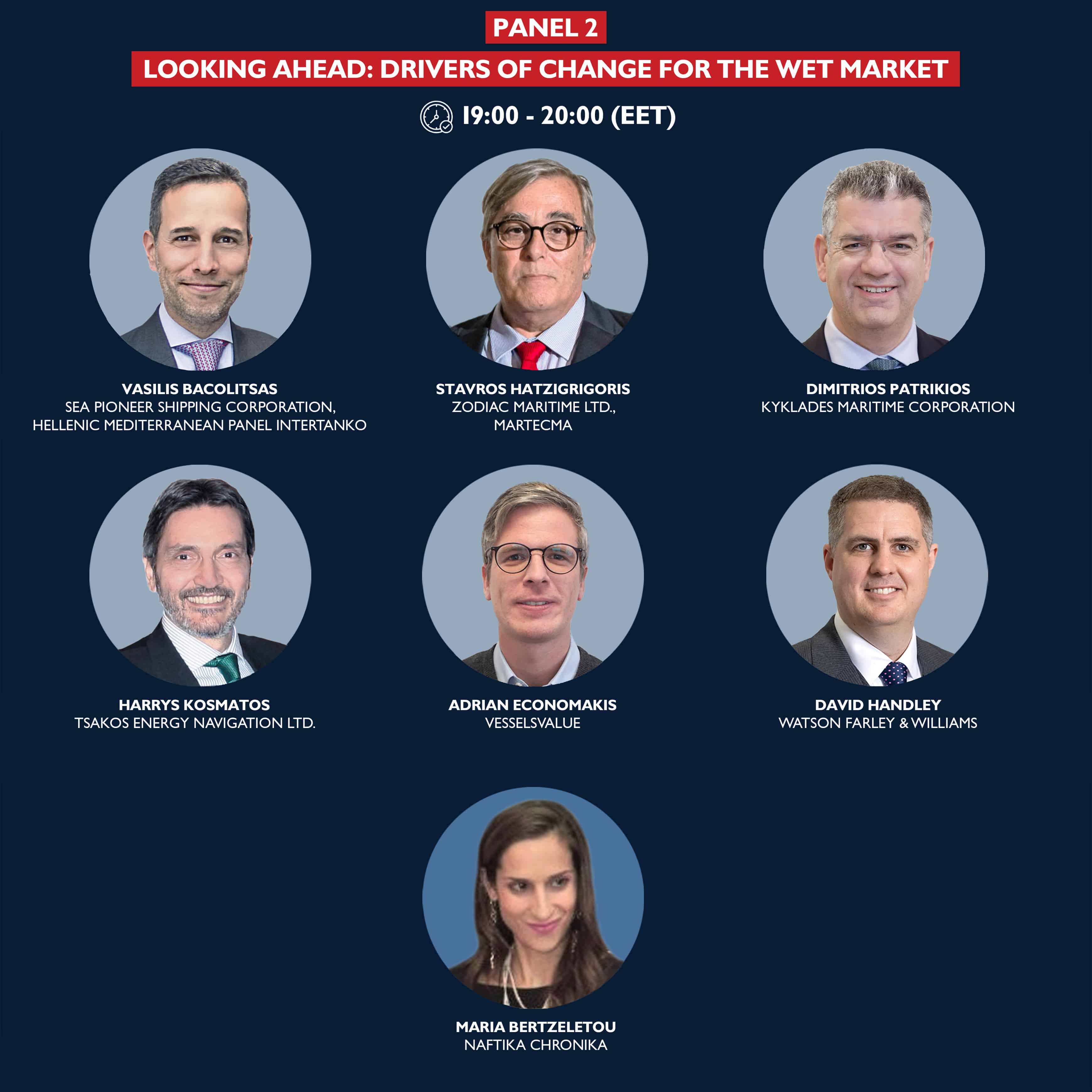 19:00 - 20:00 (EET) - Looking ahead: Drivers of Change for the Wet market

- Mr Vasilis Bacolitsas, Chairman, Hellenic Mediterranean Panel INTERTANKO & Director, Sea Pioneer Shipping Corporation
- Mr Stavros Hatzigrigoris, Zodiac Maritime Ltd.
- Mr Dimitrios Patrikios, CEO, Kyklades Maritime Corporation
- Mr Harrys Kosmatos, Corporate Development Officer, Tsakos Energy Navigation Ltd.
- Mr Adrian Economakis, Chief Strategy Officer, VesselsValue
- Capt. David Handley, Senior Associate- Dispute Resolution, Watson Farley & Williams
- Moderator: Mrs Maria Bertzeletou, Analyst, Naftika Chronika
Lead Sponsor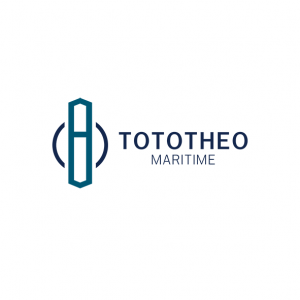 Supported by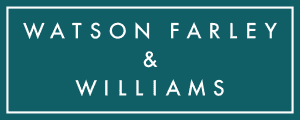 With the Participation of

Sponsors